SawYouAtSinai.com Review
SawYouAtSinai.com Sign in/Sign up
SawYouAtSinai.com is one of the best Jewish dating sites for religious singles like Jews. The platform is packed with fun and useful features making for an enjoyable experience on the dating site. However, this platform operates differently from other dating sites, and so its signup process is a bit longer than average.
The whole signup process will take you between 15 and 20 minutes. It is because the platform tries to pick as much information from you as possible. This information will be used to match you up with compatible partners.
There are 7 steps in the registration process – 7 stages that are sections where you provide religious information, education and profession, family, appearance, match criteria, lifestyle, and about myself section.
Not all people on the site will s the information you put up. Your profile information will only be available to your chosen matches. Uploading a photo is not mandatory, although it is highly recommended that you put up a photo to increase your chances.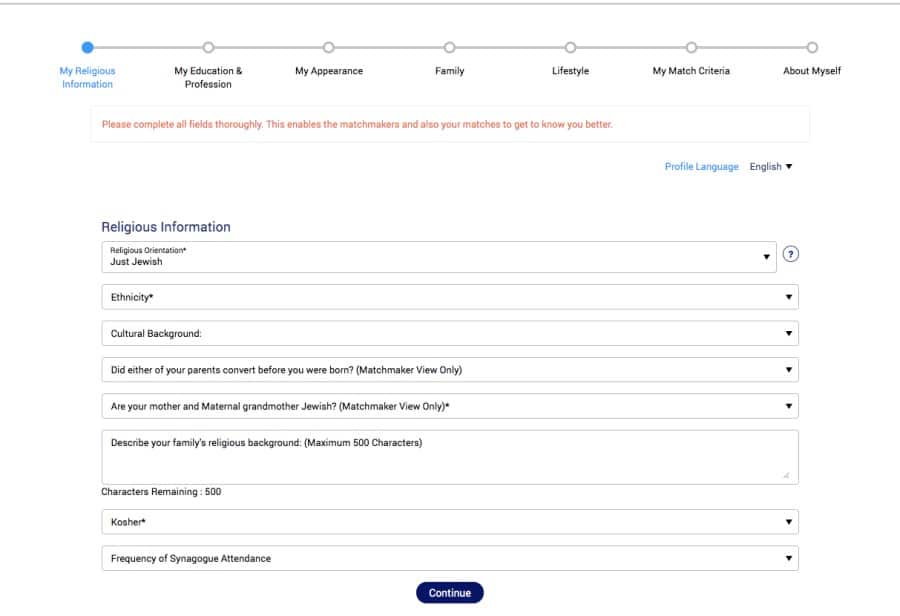 Member Structure
There are around 30,000 members of this dating service in the United States. There are around 3,000 daily logins according to SawYouAtSinait.com reviews. Almost all members of the platform are Jewish. It doesn't matter whether they are liberal or conservative Jews or Jews who are apathetic to their religion.
The male to female ratio on the dating site is proportional. 45% percent of the members are male, while 55% are female. In addition, there is a significant proportion of members in each age bracket.
Through your profile, you can declare your preferences. This will allows dedicated matchmakers to match you with your preferred partner.
A majority of the members on this platform are seeking partners for long-term and serious relationships. The dating site has a reputation for matching people for marriage.
Matchmaking at SawYouAtSinai.com
SawYouAtSinai dedicates a personal matchmaker for each user of the platform. It means that if you sign up with the dating site now and complete your profile, a dedicated matchmaker will be assigned to you. Members are not given the option to search for their matches manually. There is no profile or member search available.
You are supposed to choose a matchmaker. This matchmaker will be responsible for pairing you with compatible matches based on your profile and preferences. The matchmakers will send you the matches, and you have the option to accept or decline. You can also put the matches on hold.
You get a limited number of matches each week. Only matched members can contact each other. You can chat with your match and make plans for a date.
Profile Quality
Because of the lengthy registration process, the profiles at SawYouAtSinai are detailed. However, these profiles are only visible to matchmakers, and they use the information to create matches. There is no option for members to search for or browse profiles of other users. Although uploading a profile photo is not a mandatory requirement, you'll have a higher chance of getting the right match if you upload a photo.
You can choose the specific matchmakers you want to access your profile. Alternatively, you can let your profile be visible to all matchmakers. Your profile information includes all the details you filled in when signing up.
SawYouAtSinai.com App Review
This dating site has a mobile app. It means that you can access online dating services and connect with Jewish singles through your smartphone. The app is available for free on Google Play Store as well as on the App Store. The app is compatible with Android and iOS operating systems.
All features on the desktop site are available on the mobile app. The app is, therefore, a convenient way of getting matched with your preferred partners online. Turn on the mobile notifications to get notified of updates and interactions, allowing you to take action quickly.
The app has a rating of 4.3/5 at Google Play Store and a rating of 3.6 on the App Store. Overall, the app offers users good mobile usability.
Design and Usability
This site has a clean and simple interface. The platform uses brand colors of blue, gray, and white. Icons represent all functions or features on the site, and these icons are organized on the left side of the page. To access more functions, each icon is separated by dropdown tabs.
Special Features
There are a couple of special features on this site. But one of the features that stands out and separates this platform from other dating sites is the dedicated matchmakers.
The Jewish Prenup: This is a dedicated page where members can see recent engagements.
SawYouAtSinai events: These are virtual and in-person meetup events for the members.
Dating articles and advice: The website has a blog for dating articles.
Profile tips: These are articles on maximizing your profile to increase your chances on the platform.
Dedicated matchmakers: The matchmakers create matches based on members' profiles and preferences.
Engagements: This is a page where the website announces all successful engagements matched through the site's matchmaking service.
Security and Support
This dating site incorporates several security features to ensure you stay safe on the platform. For example, members can block other users, whether they had already accepted them as a match or not. The option to block a user is available on the My Matches page.
You are also required to take personal precautions when engaging with the matches that have been created for you. Only share your phone number with people you're sure you want to meet for a date.
Costs and Prices
There are some freebies on this platform. For example, creating a profile is free. It is also free to attend events, get one match every week, and choose one matchmaker. However, a free account will limit your usage. For example, you cannot accept matches on a free account. You can upgrade your account and unlock premium features through the following plans:
Gold Membership
1 month at 18.95 USD
3 months at 44.85 USD
6 months at 65.70 USD
Platinum Membership
Platinum membership gives you more perks than Gold membership. You get 3 matchmakers and a maximum of 12 matches every week with the premium membership plan, compared to the Gold membership, which gives you 2 matches and 10 matchers each week.
SawYouAtSinai.com Cancellation
It is easy to deactivate or delete your account through settings. It is also easy to unsubscribe from any of the premium plans. SawYouAtSinai does not offer refunds.
Experts Conclusion
SawYouAtSinai is one of the best dating sites for meeting and dating Jewish singles. With the almost equal ratio of men to women, each gender has equal chances of getting matched with their preferred partner. The platform has amazing features, which include blogs and articles on dating. The site also organizes events or meetups which you can attend for free.
This dating site uses matchmakers to connect you with a match. You have the option to accept, decline, hold the matches. We found this to be both a unique and interesting way of connecting matches. The website has a high success rate of connecting people for marriage, and these matchmakers must therefore be very efficient.
FAQ
Is this a legit dating site?
Yes, SawYouAtSinai is a legit dating site that was founded in 2003.
Is it free to join the service?
Yes, it's free to sign up and create a profile. You'll, however, need to upgrade your account to achieve better results.
Can I browse profiles for free?
All members, including premium users, cannot browse profiles. Only matchmakers have access to member profiles.
How safe is SawYouAtSinai?
It is a safe dating site. You can block users who appear suspicious.