Loveagain Review (Update 2022)
Loveagain is a dating site for a specific group of people. Even if you don't fit the aimed category, you can still join and have a good time. For whom is Loveagain created? For singles older than 35. They're advertising it as a site for people from 40-70 years of age, but I've noticed many younger members (30-35 years) and some older members (75+).
Although the site is named Loveagain, it's not just a dating site. Some members are looking "only" for friendship. Still, most users join to find love.
Loveagain Sign In/Sign Up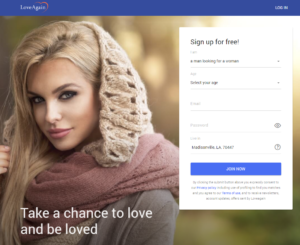 Creating a profile is very simple. It shouldn't take you more than half an hour altogether. First, you'll have to provide some basic information (but don't worry, nobody will see that. More about it later).
That will take 1 to 5 minutes, depending on your skills on the computer. Once you finish, you'll receive a verification email. I got an email after 10 minutes, but in some loveagain reviews, they say it can take a couple of hours.
After verifying your account, you have a chance to fill your profile with personal information. I'd suggest you do that, so other members know if you are looking for friends or lovers. If you decide to use all the given space to say something about yourself, that'll take you approximately 15 minutes.
It pays off because you won't be contacted by members who aren't your matches (based on interest and personality), so it'll save you a lot of time.
Member Structure
While registering, I expected to see only seniors, but a minority of members on loveagain is younger than 35 years. They're probably looking for experienced lovers, which is great for every senior who still feels young. Still, 90% of the members are males and females in 40 to 70 years.
Like on most polyamory dating sites, there are more males than females on loveagain. Surprisingly, the gap is tighter here than you'd expect. There are approximately twice more males than females. The ratio is 67% – 33% for men. One more important thing is the reason for joining. Most members (up to 80%) join to find love or at least casual relationships. The rest join to make friends.
Matchmaking on Loveagain
One amazing feature loveagain gives for free is the option to browse and search all the other members. That's not something you'll see on many dating sites.
Their matchmaking algorithm is on point. It will present you with your potential matches based on the info you share on your profile (you can still hide that info from other members if you want). That's a great feature if you want to get results as soon as possible.
On the other hand, if you want to search on your own, you can use various filters. The most popular filter is location. It lets you search only for people in your area.
You can use many more filters like hair color, eye color, age, etc. After contacting other members, they usually answer quickly if they're online. You can see who's online or when they were online last time and use loveagain like nerdy dating site.
Profile Quality
Compared to other dating sites, people leave more info on their profile on loveagain. It might be because of age. Members here are more serious than members on hookup sites. Most users provide valuable info about their intentions, likes, dislikes, and hobbies. That's great because you'll know if they are good for you before making contact.
Some members use the feature that lets them hide their info. I don't get why they're doing it. Maybe because they're afraid, somebody will recognize them and make fun of them. It's always better to put your cards on the table and save yourself from being contacted by people you don't like.
Loveagain App Review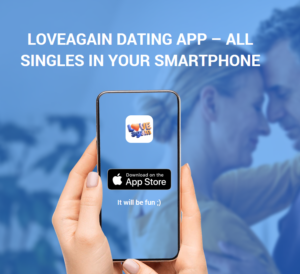 Experts writing loveagain reviews disagree on some things, but we all agree on one thing. Loveagain made the smartest move ever when they decided to make a Facebook app for their site.
It speeds up registration (if you decide to use Facebook to register). It lets members share more photos with their potential matches or new friends. And it works smoothly on desktop and mobile phone.
Design and Usability
Creators of loveagain.com know that some seniors aren't tech-savvy. Keeping that in mind, they've created one of the simplest dating sites available.
Design is sharp and without unnecessary features. Finding your way around the site won't be a problem, even if you're learning how to use a computer or mobile phone. I can't emphasize enough how much I loved the design and usability of loveagain.
Special Features
Special features combined with members' quality determine you will join a dating site. That's a fact. Luckily for everybody who's looking to create new connections and find love again, this dating site has some great special features. Let's check them out:
Facebook app – it speeds up registration and allows the sharing of more personal info
Message & winks – to break the ice and start conversations
Sending videos and photos through chat (for paid members only)
SMS chat feature – connect with other members via SMS (it has its fee)
Account promotion – use your status (up to 140 characters) as an ad. The support team will also initiate contact with other members if you use that feature.
In my opinion, the biggest plus is a Facebook app, but sending videos in the chat isn't far behind it.
Security and Support
Since it's new, loveagain is ahead of most similar sites for security and support. The support team is available all the time, but what makes this site perfectly safe is verification through email or SMS. They're going one step further on security by allowing members to use 3 different browsing modes.
Full safe – you'll see only verified members without any fake profiles
Basic – you can't see anybody who's marked as "suspicious" by moderators
Without safety – you can see all the members, expect to find a fake profile from time to time
Costs and Prices
Like all other dating sites, loveagain has a free and paid membership. Free membership lets you browse other members, send winks to initiate contact, and send 5 messages.
That's good, but it's nothing compared to full premium membership. You can taste it if you get a 3-day-trial. That'll cost you $4,47. If you realize that loveagain is worth your time and money, you can extend your membership. Here are the prices:
1 Month – $47,99
3 Months – $89,97 that makes $29,99 per month
6 Months – $137,94 that makes $22,99 per month
The longer you decide to stay, the less you pay in the end. But in any case, I'd suggest you first to try a 3-day-trial. You might be so lucky to meet that special someone in the first 3 days.
Loveagain Cancellation
Deleting your profile on loveagain won't be a problem. You can do it in a couple of clicks at any moment. If you first buy a premium membership and then decide to cancel it you won't get your money back. That's why I'm recommending (again) to take a 3-day-trial. I got a 3 months membership after 3 days, but you might not like the site as much as I do.
Experts Conclusion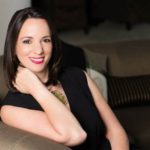 My conclusion about loveagain is a bit different than in the rest of loveagain reviews. It's a simple site anybody can master in minutes. It's 100% safe to use, and there are almost 0 fake profiles. If you find one, report it. The support team will take care of them. Value for the price is good thanks to the quality of members, a Facebook app, and the site's overall safety.
FAQ
Let's see what are FAQs about loveagain dating site.
1. Who owns Loveagain.com?
Tradax IP Licensing Limited owns the domain, but the site is owned and operated by NSI (Holdings) Limited. They own cupid.com, too, so you can be sure they're legit.
2. Is Loveagain legit?
Yes. You can meet real people on loveagain. You can find friendships and partners for serious or casual relationships.
3. Can I block another Loveagain member?
Yes. You can also use different modes of browsing to get rid of "suspicious" or unverified accounts. You can also report profiles that look fishy to you so moderators can take a better look.
Loveagain is a dating site for people between 35 and 70. It's safe and easy to use. Prices are similar to other sites for online dating. The biggest pluses are a Facebook app and safety features.
Find love on loveagain now!