IWantU Review
IWantU Sign in/Sign up
Like many adult hookup sites, registration at IWantU is easy and fast. This makes it possible for the platform to register many users, making it one of the best dating sites for adults looking for a quick hookup.
Registration will take only a few minutes, or even just a minute. Provide information about your age, gender, location, and email address. You'll also have to nominate a password, provide a screen name, and brief information about yourself. Email verification is mandatory before you can start using the dating site.
After email verification, you can upload a photo. You can upload several photos to appear on your profile. Uploading multiple photos will help users see different angles of you.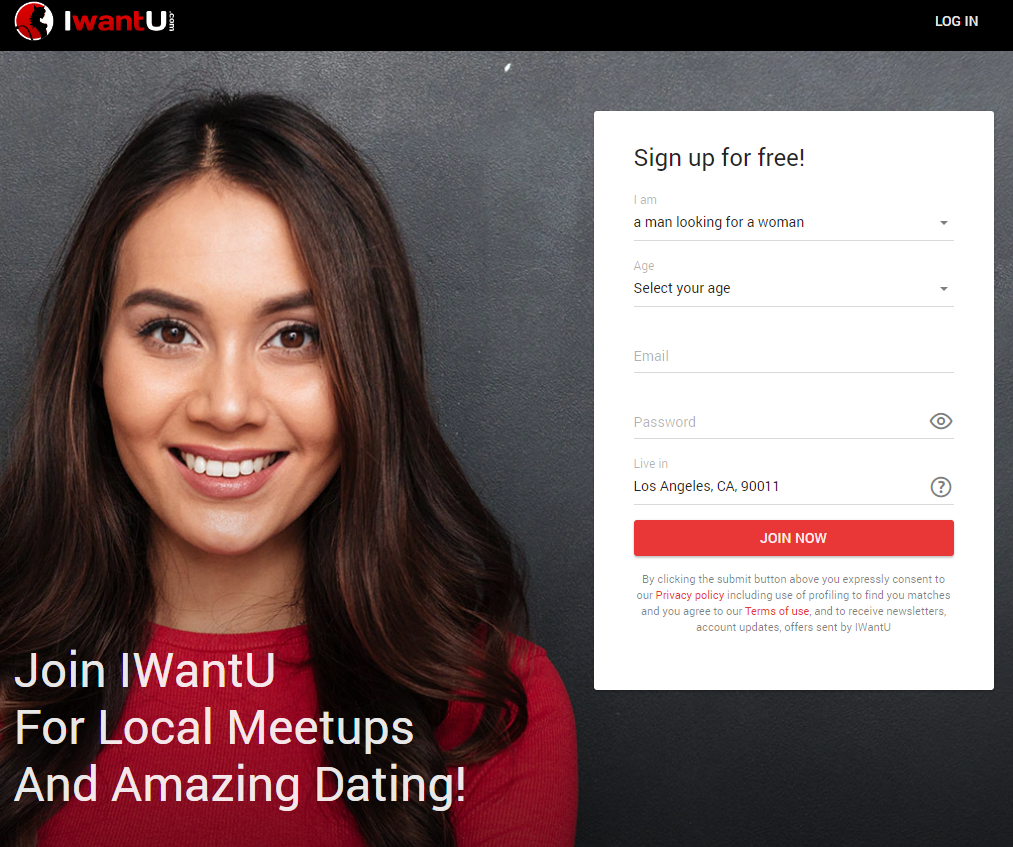 Member Structure
We couldn't get the exact number of users on the site, but the membership base runs into millions of users across the world. The largest number of users comes from the United States. It means it will be easy for you to find other open-minded singles ready for casual hookups.
A majority of the members fall in the 25 to 34 age bracket, although there is a significant proportion of users from other age groups. The gender distribution is also almost equal, therefore giving both gender equal chances on the platform.
There are some fake profiles on the platform. These fake accounts are mostly female profiles that use stock photos. It is, therefore, easy to spot fake profiles.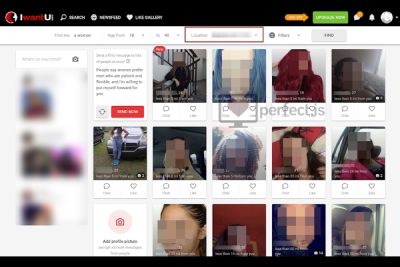 Matching at IWantU
It is easy to search for specific profiles on the dating site manually. You can use filters like gender, age, and location and start communicating with those that fit your profile. An upgraded account gives you access to the advanced search tool and therefore has more refined searches.
You can use the 'Meet Me Today' feature for people who might be readily available for a date. The feature lets you singles who are currently available in your area. Playing the Gallery Like game will also make it possible to find mutual matches quickly.
You can make contact with other members by direct messaging. New members have up to 5 free messages. After that, you'll have to upgrade your account for full messaging options. The alternative for free users is to send likes to get the attention of other members.
Profile Quality
The profiles are descriptive enough for you to tell the personality of a member. Only people who are 18 and over are allowed to sign up, and you'll find a mixture of different types of adults into different types of lifestyles but mostly open to casual hookups.
Some of the information you'll see on a member's profile includes their age, gender, orientation, profile photo, bio, and location. Beware of some fake profiles, which are easy to spot. Fake accounts usually use downloaded images or stock photos. To get the best results out of IWantU, you should create a detailed profile that includes your most recent photos.
IWantU App Review
There is a mobile dating app for IWantU. However, it only seems store be available on Google Play Store, and therefore only Android users can use it. The app has a rating of 3.5/5 stars at Google Play Store. Based on several IWantU reviews, users are generally satisfied with the mobile app.
Design and Usability
This website and app are simple to use, with clearly labeled tabs. Everything is a breeze starting from the registration process to searching, browsing, and communicating with members. There are no complicated methods on the platform, and anyone can easily navigate through various areas and features of the site.
The most vital icons are located at the top of your screen. For example, the search function is available on the dashboard. It is also easy to start communication. You can start instant chats or send private messages. The site generates a hotlist for you based on the people you're checking out. In addition, you can see the activity log of users.
Special Features
Meet Me Today: See people who are currently available in your location
Activity: See people who have either winked at you or checked your profile
Live cam: View live webcams of models
Security and Support
IWantU uses advanced encryption technology to keep you safe on the platform. When signing up, all users must verify their emails. It means that, in case of anything, it's possible to track particular members.
Like many dating sites, it's almost impossible to avoid fake profiles, despite the measures taken by IWantU. But it's easy to identify these fake accounts and avoid contact with them. For example, if a member uses stock photos or downloaded photos of celebrities, it's probably a fake account.
The FAQ section has most of your questions already answered. If you still thinking you need clarification or have a question that has not been answered, you can contact support. Contact support by email, and you'll get feedback within a maximum of 24 hours.
You can use the incognito mode to stay anonymous. You can browse profiles of users without them knowing that you checked their profiles.
Costs and Prices
A free account at this dating site limits your options. For example, you will not enjoy unlimited messaging on a free account. You can only send likes to show interest. To access unlimited messaging and more, you must become a premium member. The premium plans available include:
3-day trial at 3.18 USD
1 month at 24.49 USD
3 months at 41.97 USD
6 months at 67.14 USD
IWantU Cancellation
Deleting your account or removing your profile from the IWantU system is easy. Go to your profile photo and click settings. Choose 'Remove Account". Follow the prompts to delete your account completely. It is also easy to cancel your subscription to the premium plans.
Experts Conclusion
It is one of the best dating sites for open-minded singles looking for hookups. It is easy to register and start looking for the nearest naughty single ready for a hookup. A majority of the users are young people ready for all types of adventures. We recommend you to use IWantU for BBW sex dating.
The design of the website makes everything clear and within reach. Some of the most important features, like the search and communication functions, are visible on your page. The search function is available on your dashboard. Go ahead and filter users to access profiles of single who meet your taste.
An upgraded account increases your chances on the platform, especially if you're male. For example, you cannot message members if you're using a free account. You can only send likes to show interest. Choose any of the premium plans that work for you and access unlimited messaging.
FAQ
Is this a safe dating site?
Yes, IWantU is a safe hookup dating site. However, beware of fake profiles. The fake accounts are easy to spot.
Is there a chat feature?
Yes, there is a chat feature. You can turn it on and off depending on when you want to chat.
Is IWantU a legit dating site?
Yes, this is a legitimate dating site that connects singles for hookups.
Is it possible to send as many messages as I want?
Free members get a maximum of five complimentary messages. After that, you'll have to become a premium member to send as many messages as you want.