Grindr Review [2022]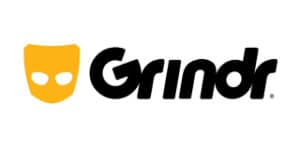 Started as a location-based social networking platform, Grindr has become a popular dating application for gay, bi, queer, and Trans singles. Launched in March 2009, available for both Android and iOS devices, Grindr has undoubtedly gained a reputation as the prime gay mobile app community worldwide.
Has the highest user engagement rate
Free users get complete functionality access
Matches based on location
Provide a dedicated platform for LGBTQ
Users get anonymity online
The live chat feature is exclusively for paid users only
Not ideal for people seeking a life partner
Lots of fake profiles
Has pop-up ads subscription upgrade
Interface needs improvement
Touted as a hookup app mostly, Grindr is indeed a dating app that has gained many controversies over the years. Still, it remains in the competition and serves its members right. So, here we present you with Grindr dating app review to verify if the site holds actual value or not.
Members of Grindr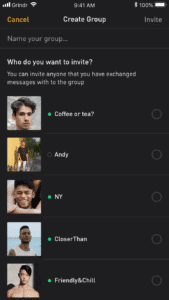 Home to over 27 million singles of the LGBTQ community, the member structure belongs majorly to the USA, making 25% of the entire platform. Apart from this, other countries that have the largest number of members are:
the UK with 1.8 million
Australia with 650k
New Zealand with 124k, followed by
Hong Kong with 191k and
Singapore with 162k
Online Registration
As the Grindr website is still a work in progress, you have to get the app to register. Sign-up is free of cost and only takes a while. It means you only have to provide a legit email id and set up a password to enter the Grindr dating app community. You can consider using a Facebook account for registration.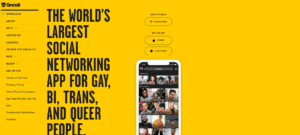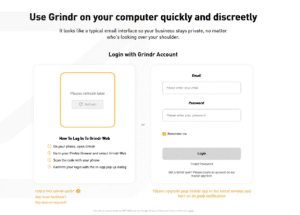 Contact & Searches
Grindr provides two dedicated features to contact other seekers. The former one is regular messages, and the second one is called Taps. Messages work like usual service, and Taps offer you to see the people who are fascinated by you.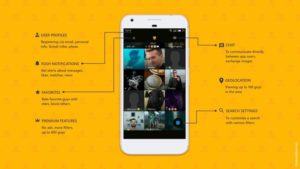 Grindr Profile
Even though the Grindr dating app profile is detailed, you aren't obliged to fill all the spaces. It's also possible to link your social media profile with the account, which further makes the profile creation easier. But make sure that you enlist something in sections like Info, Stats, Identity, Sexual Health, etc. to provide a fair chance to others to analyze your profile.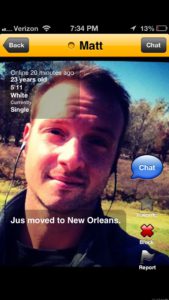 Matt Moore, 'Ex-Gay' Christian Advocate (original: huffingtonpost.com)
Mobile App Overview
The Grindr dating app is deliberately customized with a user-friendly interface. Though there is still some space left for improvement, it will give you a more focused experience. The app is available for Apple and Android devices in their respective stores and can be downloaded for free. Don't forget to try it once!
Grindr Reviews
"I was a little afraid to come out openly as a Gay man, but this app helped me find other men facing the same dilemma. Luckily, I found a partner who gave me the courage, and now he is my husband. Thanks to the anonymity of Grindr, my identity was kept safe until I was ready to reveal it." – Rick, 31 (CA)

"Fun dating app!! Good for both hookups and finding a genuine partner. I will give Grindr 5-star rating for privacy and security." – John, 45 (Australia)
Grindr Subscription Prices
The app offers two Subscription plan – Xtra and Unlimited.
Promote My Account
1-month at $13
3-months at $28.20
12-months at $62.40
Grindr Unlimited
1-month at $41.11
3-months at $61.17
12-months at $176.46
Unique Features
Here are some special features of Grindr that will come in handy while you are chatting and flirting with your matches.
Gaymojis – Emojis customized for LGBTQ community
Tap – Show someone you are interested
Favorite – Bookmark profiles
Explore – Expand partner search to other countries
Discreet App Icon – To change the app icon/logo on your device
Free of Charge Services
Grindr holds up to its end of claims by providing the following services for free:
Registration/Sign-up
View 100 matches
Send/Receive messages
Basic Search Filters
Join 1 Tribe
Explore Member's Profiles
Form group chat
Grindr Usability
As Grindr relies on your location to look for a partner, the dating app's usability is above average. The app is friendly and straightforward to ensure that the members don't consider browsing for profiles a hassle.
Is Grindr safe?

Considering that Grindr is a gay, trans, bi, and queer dating app, the members' security and safety is a primary concern for the developers. You can review Privacy Policy to verify that your information is under protection, and the security team can remove fake accounts too if you come across any.
Chinese firm selling dating app Grindr amid national security concerns

Tips to Make Your Search Successful on Grindr
The best tip to have an impeccable dating experience on Grindr is to join the right Tribe. It will be your community where you'll get to meet compatible singles and pursue the relationship of your choice.
After reading this dating app review, don't forget to visit the Play/App Store and try it for free!
Frequently Asked Questions
How Grindr works for singles?
The app follows the standard procedure of dating apps. First, you register, allow the app to access your location, and start searching for potential matches.
How to get in touch with other members?
Use Chats or Taps or both.
In which country Grindr app is popular? And in which countries it's prohibited?
Grindr is prevalent in western countries such as the USA, UK, Brazil, and Mexico. The countries where it's prohibited include Middle East countries like Lebanon, Turkey, Saudi Arabia, Iran, UAE, Asian countries like Indonesia, China, and others like Ukraine, Egypt, and Russia.
How long does it take to review photos on Grindr?
Typically, the photos you upload get reviewed immediately. Nonetheless, if the image contains a sensitive message or information, it won't get approved.
Will I know when someone blocks me on Grindr?
No, technically, you won't find out if someone blocks unless you specifically search for that person. You can always create a new account to verify if someone has blocked you or their account is deleted.
Is Grindr an utterly anonymous platform?
Yes, the site allows the members to upload and post a faceless picture for a display to keep the identity secret.