Naughtydate Review
On naughtydate, it doesn't matter if you are black, white, gay, or straight. Your location doesn't matter either. All that matters is that you are naughty enough. If your mind can't stop thinking about sex and hookups, you'll feel in heaven on this site. Some dating sites are made to help their members find love, naughtydate is made to help you get laid. Does it work? Yes, it does. But read till the end to learn everything you need to get hookups there.
Naughtydate Sign In/Sign Up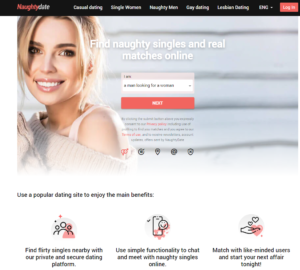 Creating an account on Naughtydate is easier than you'd expect. It's the same as creating a profile on any other site or webshop. Even easier. Once you get to the site, all you have to do is provide:
• an email address
• password
• location
• age
• name
• sexual orientation (men looking for women, women looking for men, etc.)
Seconds after that, you'll receive a verification email. Follow the link in it, and that's it. Your account is approved. To make it 100% legit, you have to upload a profile picture. It has to be a clear photo of your face, a basic selfie. Moderators have to approve your photo (to make sure it's not fake).
In my case, that happened in a matter of minutes, but they said it could take up to a couple of hours. Even before your photo is approved, you can contact other people and write details on your profile.
Member Structure
If you'd read any naughtydate reviews by other experts or real users, you know that naughtydate has many members. The total number of people is getting close to 1 million, but what's more important is that it has 300 000 active monthly users.
If you want more details, your jaw will drop now. More than 10 000 active daily users put naughtydate among the most popular dating sites for hookups. But big numbers won't do a lot for you if you can't meet any users in real life.
Luckily, there are over 300 000 total users from the U.S.A. Other most popular countries are Germany and the U.K., so if you ever travel there, you know how to get a hookup. The only downhill (at least for straight men or lesbians) is that there are 3 times more men than women on the site (77% – 23%, to be precise).
Matchmaking on Naughtydate
After creating a free account, it's easy to make contact with other users. You'll get 5 free chats, so use them wisely. But you'll get unlimited free winks. They're used to break the ice and initiate contact with members you find attractive. If they wink back at you, send a message and continue chatting until you're ready to hookup. In my experience, active members either answered immediately or didn't answer at all.
Those who didn't answer surely didn't like me, but most of them did. Yey! To send more than the initial 5 messages, you'll have to upgrade your membership. Don't let that be a turnoff because, with a premium membership, you'll get more benefits than you expect.
When searching for your potential matches, you can do it actively, or you can enjoy what their advanced matchmaking algorithm has to offer. You'll see a lot of your potential matches (based on your interest and location). That saves a lot of time.
Profile Quality
I was surprised by the quality of profiles on naughtydate. On other dating sites for casual hookups, girls are almost naked. Most of the girls here are well dressed. They're naughty but polite. That was a positive sign because it showed me they're real users.
However, I was not too fond of the lack of personal info on profiles. Since you aren't obligated to write any detail about yourself, most users skip that part while creating an account. I can understand that because it's a hookup site, so looks matter the most, but writing a thing or two about your personality can be a big plus. If nothing, that's another sign you're a real person.
One more thing that might annoy you if you stick to the free membership is profile photos. You can't see them in full size unless you upgrade your membership. But, you can still see everything you need to see on smaller photos too.
Naughtydate App Review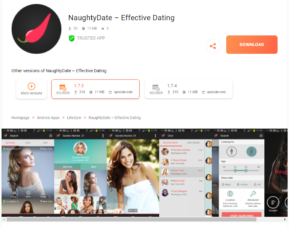 The biggest minus of the naughtydate is the lack of Android or IOS apps. If you'd read any naughtydate reviews where they brag about getting hookups through an app, those were fake. But hold your tears; the mobile version of the website works great so that you can use it while on the go. I've used it all the time.
Design and Usability
Naughtydate won me over with its simplicity. Anybody can use it. Even if you've never been a member of other dating sites, you'll feel like an expert here.
Every feature is just a click away, and the overall design doesn't feel pushy like on some other sites. They know it's not about them. It's about users and their happiness.
Special Features
Naughtydate offers some unique features that will help you get hookups easily. I've mentioned winks – the perfect icebreakers – now I'll reveal other special features.
• sending photos and VIDEOS in chat – yes, you can be very naughty there
• flirtcasts – send the same message to more than one user
• advanced matchmaking – their software is constantly updating
Naughtydate doesn't have a thousand special features, but those features they offer are more than good. I had a lot of fun because I could send and receive videos in chat. If I have to explain to you why that is an amazing feature, you aren't naughty at all.
Security and Support
The approval and support team on most dating sites works 24/7. Naughtydate is a serious site, so it's not an exception. If you have any trouble, contact support, and they'll solve your problem ASAP (usually in less than 20 minutes).
Your data? You don't have to worry about it. Sharing personal contact details is forbidden to raise security. Also, all your credit card data is safe, so you can relax while upgrading your membership.
Costs and Prices
Here comes the tricky part. You're aware that free membership is limited. To get the most from naughtydate, you have to upgrade your membership. It's like that on any other dating site too. Let's check the prices:
• 1 Month $39.00
• 3 Months $65.70
• 6 Months $106.20
When you calculate how much you'd spend on drinks in bars while trying to get hookups, $39 (it's cheaper if you get a longer membership) isn't that bad. You can also get a 3-day-trial for $2,97.
Naughtydate Cancellation
You can delete your account at any moment. But once you pay for the membership, you can't get your money back. You can cancel your membership, but you won't get a refund. That's why I suggest you take a 3-day-trial. Test the water for 3 days and then decide whether you will stick around.
Experts Conclusion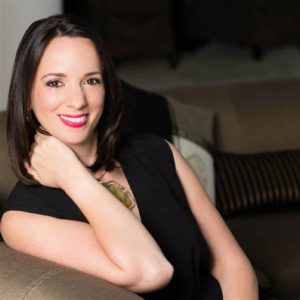 I have to say that I didn't expect much from this site based on other naughtydate reviews. Once I got my profile up and running, I got a couple of messages from fake profiles, but I've also got messages from real girls.
The more I used the site, the better it became. Special features are making it easy to find matches and start naughty conversations full of photos and videos. If you're looking to have fun like an adult – naughtydate is the dating site for you. It is also good like polyamory dating site for free.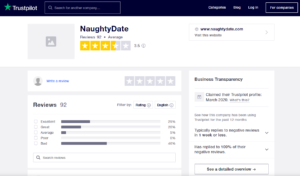 FAQ
1. Who owns Naughtydate.com?
Together Networks owns and runs Naughtydate as well as some other popular sites for online dating.
2. Why was my description on Naughtydate rejected?
Naughtydate is an adult site, but it still has some rules. If your description was rejected, it's because of:
• Cursing or offensive language
• Providing personal contact info (email, phone number, etc.)
• Trying to advertise some other dating site through your description
3. Is Naughtydate legit?
Yes. You can have a lot of fun there and get hookups too. However, you'll be contacted by fake profiles from time to time.
4. Can I block another Naughtydate member?
Yes. It's extremely simple. Just click the photo of that member, click block and confirm.
Naughtydate is a site made for all kinky people who want to have casual sex or some adult fun. It's easy to use and has a lot of members. The only downside is fake profiles that will contact you sometimes, but you'll easily recognize them.