UpForIt Review
UpForIt Sign in/Sign up
Because this is a hookup site, expect to be done with the registration process fast. Not much of your information is needed after all. Provide basic personal information and your email address, and your account will be ready within minutes.
You choose how detailed you want your profile to be. But to make it easy and faster to connect with your preferred matches, you should ensure that your profile has enough information to attract the attention of other users.
One of the requirements before you are accepted into the system and start browsing other members is that you must verify your profile. UpForIt will send you an email with a link to verify your email address. Compared to other dating sites, there is no option to sign up through Facebook or Google accounts.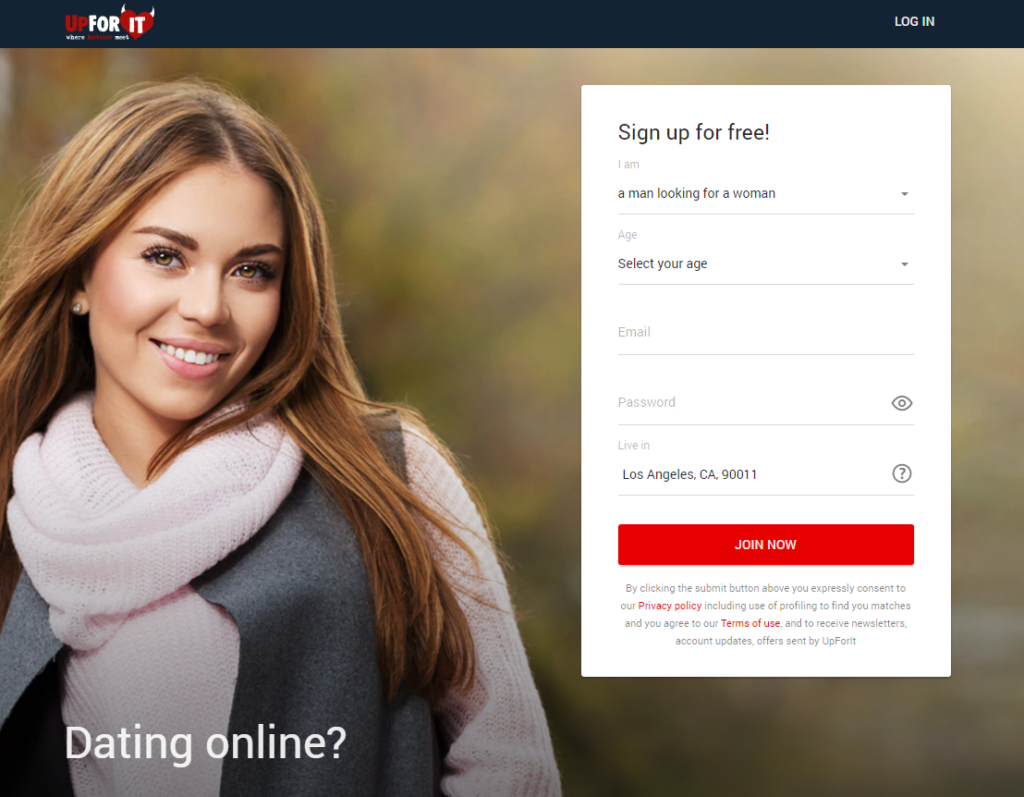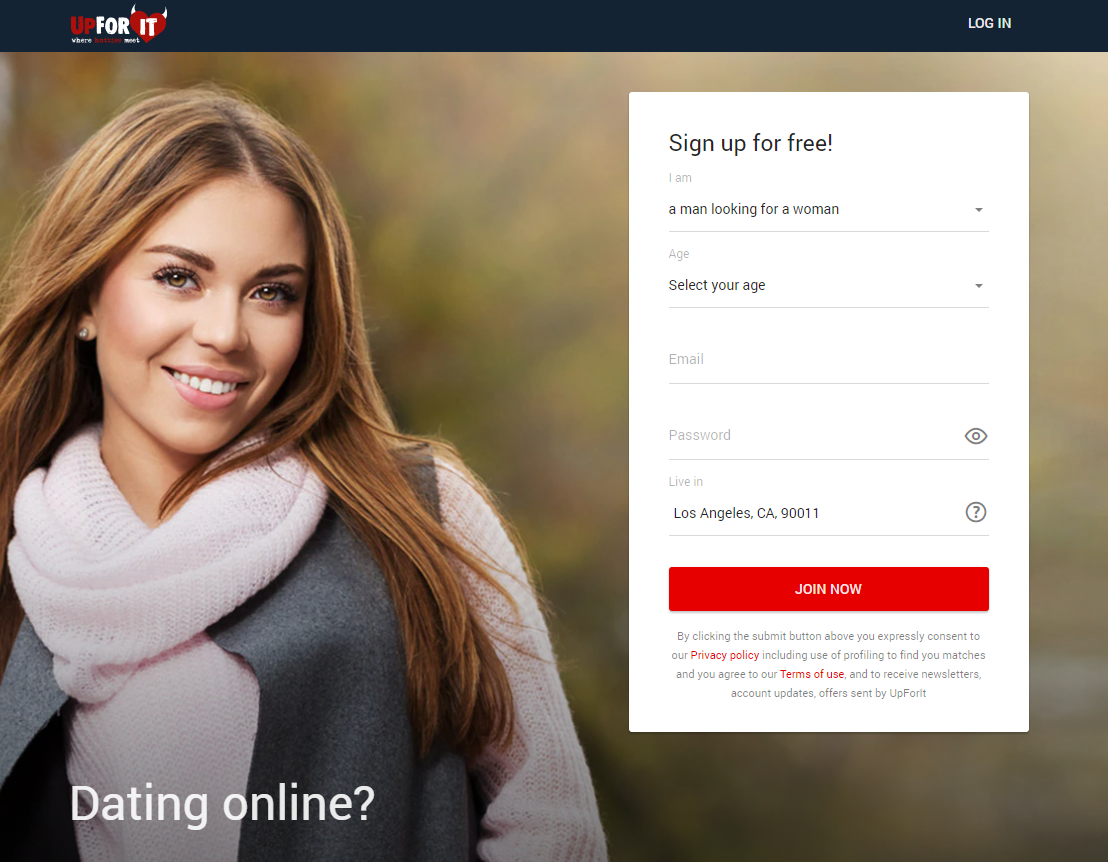 Member Structure
UpForIt has about 52,000 users in the United States. It is not a user base that is large enough to guarantee you getting a match. You must therefore take extra effort like manually searching for specific members to access your preferred singles.
Based on my personal observation and other UpForIt reviews online, membership distribution shows that there are more men than women on the dating site. 75 percent of the total user base comprises men, while females take the remaining 25 percent. It brings the ratio of men to women to 2:1. For every single lady, there are two single guys waiting to connect with her. A majority of the users are young adults.
A majority of the members use UpForIt to find hookup partners. It is, therefore, not the ideal platform if you're interested in serious and long-term relationships.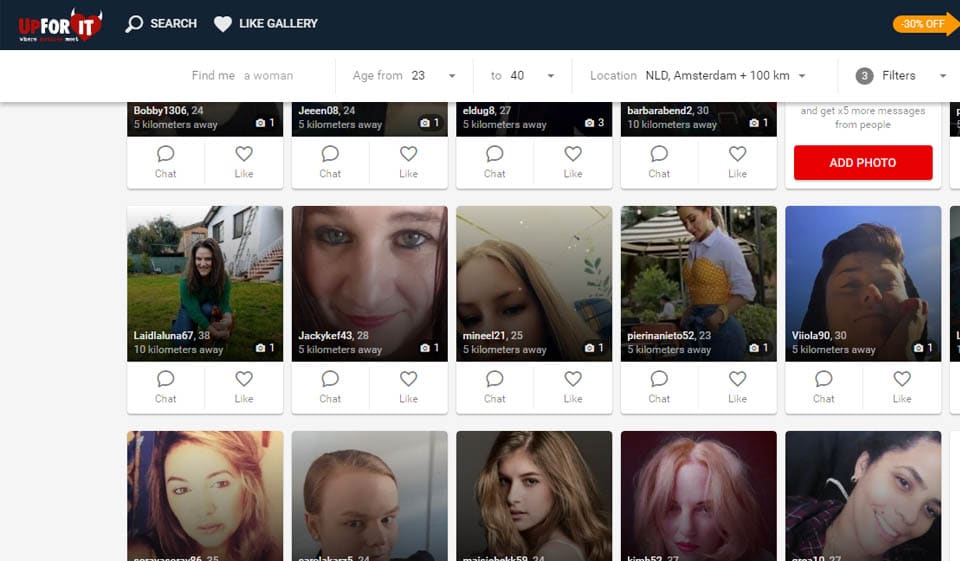 Matchmaking at UpForIt
You can manually search for specific members and start chatting with them. Using the Match feature is the best and easiest way to get connected to your matches. It is a swipe feature that works similarly to the Tinder swipe feature. You vote on whether you find a particular profile to be cute or not and based on the results, you'll find mutual matches. The other option is to send winks to show a member that you like them.
Communication options available include chats and private messaging. However, you have to be a paid member to send messages. New members get 5 free messages. Premium members can share photos and videos in chats.
You can use the Safe Mode feature to choose the type of profiles you want to contact; for example, you can only contact verified members.
Profile Quality
There is no much expectation on the depth of profiles at UpForIt because it's a hookup site. The profiles display basic personal information of the members, such as ethnic origin, marital status, and sexual orientation. You'll also personal descriptions like the member's height, age, weight, hair color, and eye color.
UpForIt has an option for members to upload videos and photos to make your profile stand out. It is free to upload photos. The video file you upload has to meet specific requirements. The file must not exceed 100Mb in size and be less than 30 seconds. You can update your profile anytime you want.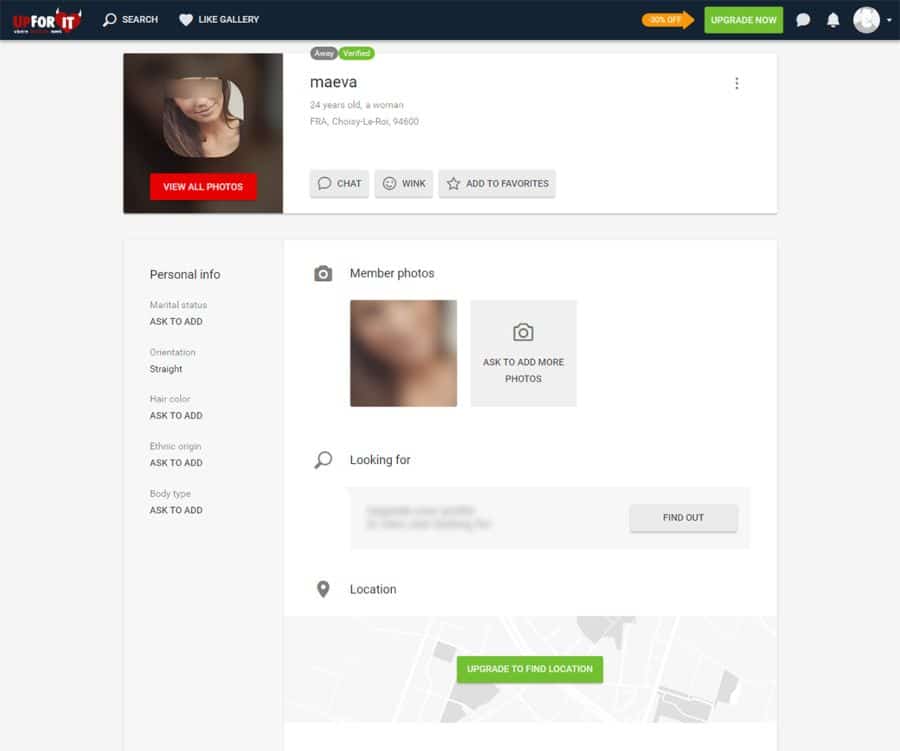 UpForIt App Review
As of writing this UpForIt review, there is no mobile app for the dating service. You can probably access the mobile version of the site on your phone and still access the same features available on the desktop site.
Design and Usability
This site has a nice, simple, and user-friendly interface. You can browse many profiles quickly and smoothly. The menu bars are clearly labeled and neatly organized for easy identification and use by the members. It ensures you have a hassle-free experience on the platform as you navigate through various sections and features of the dating site.
Just from the home page of your profile, you can search for specific members. Use different filters like age, height, and ethnicity to quickly access these profiles and contact them. The communication options are also clearly visible for you. The Match feature for creating matches is also easy to use. How fast you get someone to chat with will depend on how fast you have a mutual match.
Special Features
Match: This is a Tinder-like swipe feature that members use to get matches.
Safe mode: This feature allows you to filter and choose members who can contact you.
Photo and video sharing: You can share videos and photos in chats.
Security and Support
It is a safe dating site. Customer support is also available to answer your queries. Beware of some fake profiles and scammers on the account. That is why you should not share personal information with people who appear to be suspicious.
One of the significant security features on this platform is the Safe Mode feature. Like any other platform, there are some profiles that appear suspicious on this platform. You can avoid contact from such profiles by setting your account only to receive messages from verified members.
Costs and Prices
UpForIt comes with both free and premium membership plans. You choose what works for you and what plan that you can afford. It is free to create an account. As a free member, you get 5 free messages, send winks, upload photos, and videos, and add members to Favorites list. However, to access unlimited messaging, you'll have to upgrade your account. A premium account also gives you access to extended search, member photos, "Looking for" info, and find location. You can upgrade through the following options:
3-day trial at 2.97 USD
1 month at 27.30 USD
3 months at 45.90 USD
6 months at 73.80 USD
UpForIt Cancellation
You can cancel your subscription anytime you want. Canceling your subscription takes you back to the free basic account. It is also easy to deactivate or delete your profile from the system.
Experts Conclusion
It is a good dating site for people looking for like-minded singles for hookups. The site has a simple layout, making it easy to navigate through the various features and sections. Anyone will find it easy to use this website.
The Match feature is the perfect method for easily and quickly creating matches. It functions like the Tinder swipe feature by creating matches through mutual likes. You'll, however, have to be a premium member to enjoy unlimited messaging on the site fully. As a free user, you can only send winks or add people to your Favorites list to express interest.
One of the few limitations of this dating service is that there is no mobile app. We hope that soon or later, a mobile app will be launched, making it more convenient to access the platform through smartphones.
FAQ
Is there a mobile app for UpForIt?
No, there is no mobile app currently.
Is this a free dating site?
Signing up is free. However, you'll have to upgrade your account to access some features like unlimited messaging.
How do I know that my messages have been read?
An hourglass icon appears on every unread message. Checkmarks replace this icon if a message is read.
Can I change my username?
Contact customer care to have your screen name changed.