Soulgeek Review
If you didn't know, geek dating sites are a thing. Not only that, they're more popular than you think. Today I'll give you a deep soulgeek review. You'll learn everything about it so you can decide if it suits your needs. *Spoiler alert* – It does.
Soulgeek Sign In/Sign Up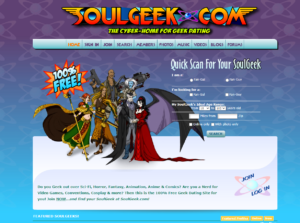 Most soulgeek reviews neglect the sign-up process, but I don't see why. I've registered for a couple of dating sites in my life, but none of them had a sign-up process that can match Soulgeek.
Just creating an account was more fun than using some other dating sites. On soulgeek, you don't just fill your data like a regular person. We're geeks; after all, we're irregular. You'll answer questions about geek stuff. Fiction, games, and stuff. I won't spoil any questions. You have to see them.
Member Structure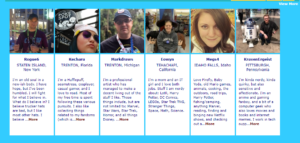 Creating a profile on a dating site is pointless if there are no people who're your potential matches. If you expect to enter another sausage party after the sign-up, you'll be surprised. I know I was.
There are a lot more girls on soulgeek than I expected. Sadly not all of them are geeky. Some are just regular hotties with a thing for smart, geeky boys. The male-female ratio on soulgeek is 60% – 40%. That's better than most dating sites.
Matchmaking on Soulgeek
Making contact on soulgeek isn't just easy – it's fun. While it's matchmaking algorithm might be better, active search can't be more fun. You can scan other members based on their interests and geekiness level.
Then you can play a couple of video-games on the site along with your matches. That's my favorite way to make contact, but of course, messages are still the best way to get under other people's armor. Even if you don't like searching for your perfect match profile, you can still get a lot of dates. The algorithm scans all the members once a week and sends you a notification with potential matches. It's a useful time-saver.
Profile Quality
I enjoyed answering questions while creating a profile, so I've answered all of them. You don't have to do it. But that will destroy your profile quality. Most members share a lot of info about themselves other people can find them based on their favorite geek stuff.
One important thing to keep in mind, since soulgeek has photo verification, is to avoid profiles with a lack of personal information and a profile picture. They're most likely fake.
Soulgeek App Review
If you've read soulgeek reviews that claimed they're having a lot of fun on a soulgeek mobile app, this will disappoint you. Sadly, soulgeek doesn't have a mobile app, and that's one of the biggest weaknesses compared to other geek dating sites.
BUT… the mobile version of their site works great, so you can stay in touch with other members while on the go.
Design and Usability
Combined with the most entertaining sign up process and quality members structure, soulgeek won me over with their design. Yes, it looks a bit outdated, but it's the only dating site that looks like a comic book/anime. For crying out loud, the homepage is called "The Bridge". What else could you need? Well, you might need a simple but effective site that's easy to navigate.
Soulgeek is exactly that. It's so simple to use that I was in the state of sock for a while. All the links are on "The Bridge" so you won't have any trouble using this site to have fun and find dates.
Special Features
If you're half of the geek I am, you'll love the special features of soulgeek.com:
• playing video games with other members
• advanced searching – you can be more precise than Charles Xavier is with the Cerebro
• Who scanned me – nobody will hide from your super-vision
• In a Nutshell – choose between two options and let other people learn more about you
• Interactive newsfeed – something like social media just for geeks
• Raising shields – hide from people you don't like, something similar to blocking them
Security and Support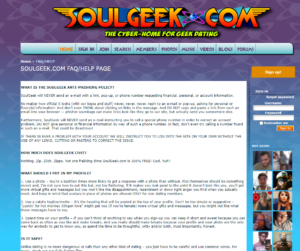 Soulgeek offers more support than most dating sites. You can send a message to their team with any questions you might have, and they'll answer quickly. I didn't have to contact them because the site is very easy to use. But that's not all.
Soulgeek has an amazing feature you'll love. You might even fall in love with it. It's something like the ring from Lord Of The Rings. It calls you, and you need to stay strong. A couple of geeky girls advises on dating every week in an entertaining video.
One thing that other soulgeek reviews don't say about those girls is how beautiful they are. That's as good as support can be.
When it comes to safety, you don't have to worry either. Using the site didn't activate my spidey sense. But I'm a curious weasel, so I had to dig deeper. Then I've discovered that soulgeek uses GeoTrust to protect your data.
They also use USPS, but none of your personal information is being stored anywhere. In my opinion, based on the technology they use to protect members' data, having an account on soulgeek is 100% safe.
Costs and Prices
Soulgeek is similar to most geek dating sites if you look at membership levels and prices. You can use a free profile, and you'll have fun with it, but only to some point. Because to contact other members, you'll have to upgrade your membership.
Don't get me wrong, you get a lot for free, but paid membership unlocks many advanced features. Look at it like on a Wolverine from X-man before and after the operation. His bone claws were pretty cool, but his adamantium claws are much better. Let's check out the prices:
• 1-Month of Premium Membership: $14.95
• 3-Months Of Premium Membership: $39.95
• 6-Month Of Premium Membership: $69.95
You and I are both geeks, so I know I don't have to do the math for you. You know how much you'll save by getting a longer membership. Still, I would advise you to first test a free version for a day or two and then get a one-month membership to see how you'll handle things on soulgeek. But one feature makes soulgeek special in the world of online dating sites. You can use premium features without buying a membership.
All you have to do is earn some credits. That's not very hard because you earn them by actively using the site. If you're half of the geek I'm, you'll use that site regularly. Even if you don't have time to be a super-active member, you can buy credits.
Prices of credits on Soulgeek:
• 200 credits – $5
• 425 credits – $10
Soulgeek Cancellation
You don't have to cancel your free membership because it's free, and it won't harm you to have an account on one of the best geek dating sites. If you decide to delete your account, it won't be a problem. The whole site is simple (but sometimes slow), so you'll find your way around. You can cancel a paid membership at any moment too.
Experts Conclusion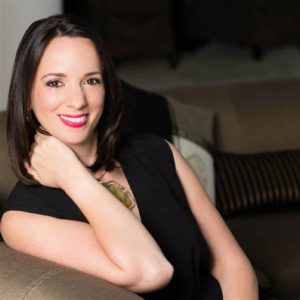 After using soulgeek for a while, I have to say it's a legit dating site for geeks. As an expert on the field, I've used most geek dating sites, and soulgeek is among the best. It's built for geeks; everything there is made to make geeks feel welcomed and confident.
It's like a hidden world just for us. You'll have fun using soulgeek for sure, but you can also get dates. The only thing I didn't like about the site – sometimes it can be pretty slow. All in all, I'd recommend you to make an account on soulgeek.
FAQ
1. Who owns Soulgeek.com?
The owner of soulgeek is Dino Andrade. He'd found it in 2007 after his wife passed away. You may not know who Dino Andrade is, but you've surely played some of the games he worked on. Call of Duty, World of Warcraft, Guitar Hero all have Dino's touch.
2. Is Soulgeek legit?
Yes. It's made for geeks by geeks. It's like heaven, a safe space, for every geek who needs company and seeks love. You can meet other people who'll understand you on that site. Girls on the site aren't all geeky, but all of them respect and like geeks.
3. Can I block another Soulgeek member?
You can't block another member on soulgeek, but you can raise your shields. That means the same thing. While your shields are raised towards them, they can't see you or contact you. It's like you disappear.
Soulgeek is the site for every geek who wants to get dates. If you put some time (or money) into it, you can achieve great results.