Feeld Review 2022
Feeld isn't just one more vanilla dating site. Far from that. Feeld is as colorful as dating sites get. It's made for open-minded, kinky people from all around the world. More than 2,000,000 profiles are registered there.
When you know that a big percentage of those profiles are couples, the number of total users becomes even higher. Yes, you've read that right. Feeld connects couples with singles who want to try threesomes.
It connects couples with other couples who want to spice up their sex life. And no, it's not just for straight people. It's for everyone. Gay, straight, transgender. It doesn't matter who you are. If you like sex – Feeld is great for you. Or is it?
Feeld Sign In/Sign Up

You can't join feeld unless you have a Facebook account, but other than that, they won't ask too many personal questions. They won't ask almost anything. All you need except Facebook is a phone number (for verification), age, gender, and a nickname. I liked the fact they didn't care about my real name.
They're aware that most members aren't so open about the lifestyle of regular people. I loved registration because it took me just 5 minutes. And that's with reading the terms of conditions. Without that, it would take less than a minute.
Member Structure
With 2,000,000 users, a member structure is colorful. About 45% percent of users are in the U.S., so if you're in the U.S.A. you have the best chance to have success with this site. Feeld is more open-minded than regular polyamory dating sites when it comes to sexuality and gender equality. You can also use it like nerdy dating site.
That's why I was surprised to see that 75% of people are straight. But a lot of members (especially girls) are open to bisexuality. That's why so many couples join (60% of profiles are couples).
They make an account for couples and look for people in their area who're willing to explore their sexuality with them. Because of so many couples, it's hard to determine the female-male ratio, but according to numerous feeld reviews and my calculations, 28% of females, and 72% of males are on feeld. Most users are younger than 35.
Matchmaking on Feeld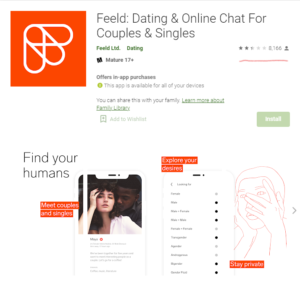 Seconds after registration, you'll get suggested matches. You can explore them or continue browsing on your own. Profiles you see will depend on your preferences (you can change that at any moment).
To protect their users, feeld has a policy about chat. You can't send messages to other singles or couples unless you connect. Connection happens when you like their profile and they like yoursn my case, I was happening pretty open because users are there to have fun, not to hide in the shadow.
Although you should chat even with a free membership, I had some minor problems with that. I could receive messages, but I couldn't send a message. After upgrading membership, everything was fine. After sending a message to some singles and couples, they've answered almost immediately. It felt like we're having a real conversation. Group chats are great too. It's easier to arrange threesomes like that.
Profile Quality
You have to keep in mind that feeld is not like other dating sites. When you see an account with a fake name and photo on regular sites, it's a red flag on feeld that's not the case. The majority of people want to protect their privacy, and owners understand that.
That's why you register with a nickname. Facebook and a phone number are there to verify you're a real person. Most profiles use photos downloaded from the Internet for the same reason – to protect their privacy. Despite that, the number of fake profiles is very low.
Since you don't have to provide many details, most profiles aren't very detailed. The minority of accounts reveal anything more than age and sexual preference. And feeld is very strict about profile photos and nudity. I've expected to see more skin on a kinky site, but nothing explicit is allowed.
Feeld App Review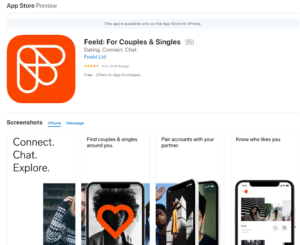 Feeld has an app available for Android and IOS. By reading feeld reviews on Google Play, you'd say that the app doesn't work. I use Android, and I had 0 problems with an app. Despite the rate of 2,4 stars according to 7000 reviews, more than 1,000,000 Android users have downloaded the app. The app works smoothly, and it's easy to navigate.
According to 14,400 IOS users, the feeld app is very good. It has a high grade on the Apple Store – 4,3 stars.
Design and Usability
Feeld app is as user-friendly as it can be. It's easy to use and fast. Anybody can find their way around it. It can take a second or two to refresh your messages, but other than that, everything is quick. Since you have to have a Facebook to register, you know how to use social media.
Feeld is even simpler than your average social media. It's easy to start conversations and create group chats. You get a notification when someone likes you, so things are going pretty fast. You can lock the app with a password.
Special Features
Special features are unlocked after you get a majestic membership. Since free features are very limited, you'd do that the first day. Most dating sites and apps focus their special features on matchmaking, but feeld is different. Their main focus is privacy.
Feeld special features:
• Hide from Friends – your Facebook friends won't be able to see your profile, so I advise you to use your real profile to register because the app will use your number of friends to determine are you a bot
• Future Connection – you'll be notified when somebody wants to connect with you (likes you)
• Last Seen – you can use that to see when a person (or a couple) was on Feeld. It helps to save time because you won't connect with inactive profiles.
Special features are pretty basic, but they don't need flashy features to be successful.
Security and Support

Before downloading an app, I've read a lot of feeld reviews. Some people had problems contacting the support team. I didn't have any problems, so I didn't need to contact the support team. They should be available 24/7 thought.
Security on the site is very strong. Maybe even too strong. As I've mentioned before, you can't have any "sexy" photos. That's a bit odd for a site that celebrates sexuality and freedom. But, their caution about fake profiles deserves a lot of credit.
Since you need to sign-up with Facebook and verify your account with a mobile phone, you can be sure there are no bots on the site. Still, that doesn't mean all the profiles are legit. There are some fake profiles, but less than on regular dating sites.
Costs and Prices
Compared to similar sites, feeld is somewhere in the middle when it comes to price. Free membership is limited, but majestic membership unlocks all the special features. It will cost you $15,99 for 1 month or $31,99 for 3 months. You can get it with PayPal, credit card, or via mobile phone.
Feeld Cancellation
Feeld is great for many things, but it's the same as other sites when it comes to cancellation. You can delete your account at any moment with a couple of clicks. But you won't get a refund for the majestic membership.
Experts Conclusion
Feeld is different. It's made to connect kinky people, so if you're one of us – you'll love it. Read terms and conditions before finishing your profile to avoid any surprises. Through the app, you'll meet many open-minded people with whom you can explore your sexuality. Alone or as a couple.
FAQ
1. Who owns Feeld.co?
The owner of feeld.co is Dimo Trifonov. His company created it in 2014. They're based in London.
2. Is Feeld legit?
Yes. You can meet singles and couples there and arrange dates. There are some fake profiles, but less than on an average dating site.
3. Can I use Feeld without Facebook?
No. Facebook is needed to verify you're not a bot.
4. Can I block another Feeld member?
No. You can hide from them, but then you won't see anybody else while browsing. Majestic membership unlocks the feature to hide from your Facebook friends.
Feeld is an app for everybody who wants to have some kinky fun. You can make a profile alone or with your partner as a couple to meet other people. And your privacy is 100% protected.
Show your kinkiness on feeld now