Chat.TGGuide.com Review
Chat.TGGuide.com Sign in/Sign up
For most transgender women and men interested in love and relationships, finding the best transgender dating sites that exclusively cater to demanding interests is difficult. However, it feels better to spice up your trans dating life while staying away from the scammers and the judgmental communities. Chat.TGGuide.com claims to provide free social and support services to the trans community. It expresses itself as a welcoming platform for trans women and men looking for meaningful connections. We thus conducted a detailed review of the site and came out with the following findings. Read our full review to find out if the site suits your chatting and dating intentions.
Registering your account and creating your profile on Chat.TGGuide.com is totally free. The process is simple and only takes about 3 minutes. Once you complete filling the fields provided on the signup form, you'll activate your account through the link sent to your email.
The signup page requires you to fill in your username, email address, birthday, location, gender, and the people you're interested in. You'll then nominate a password that you will use to log in once your account is activated. There is a 'Tell Us About You' part at the bottom of the signup page that is optional to fill. It requires short information that brings out the picture of who you truly are on the chatting platform.
Once you activate your account through the link sent to your email address, you can edit and complete your profile. Although uploading photos is not mandatory, having a profile pic makes your profile stand out from the rest.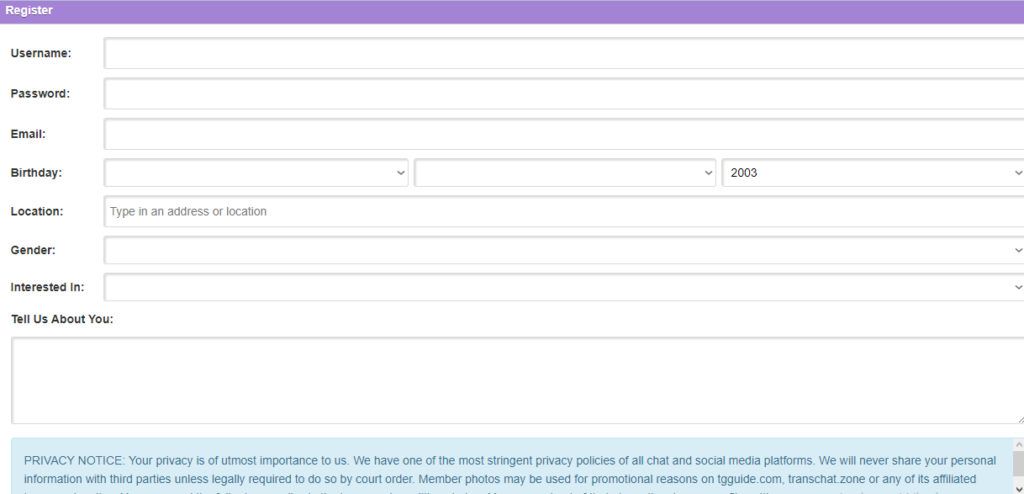 Member Structure
Chat.TGGuide.com boats over 250,000 users worldwide. Most of the members are mainly from the USA. Other European countries such as Germany, UK, Australia, New Zealand, and France also contribute to the total membership on the platform.
There are no straight females on the website. Its membership is mainly composed of transgender women and men interested in them. Many male members are on premium subscriptions. Most trans women only boast verified profiles.
Men form about 70% of the site's population, while the rest of the portion is filled by transgender women. Although many users on the site are looking for sexual encounters, there are those seeking love and lasting relationships.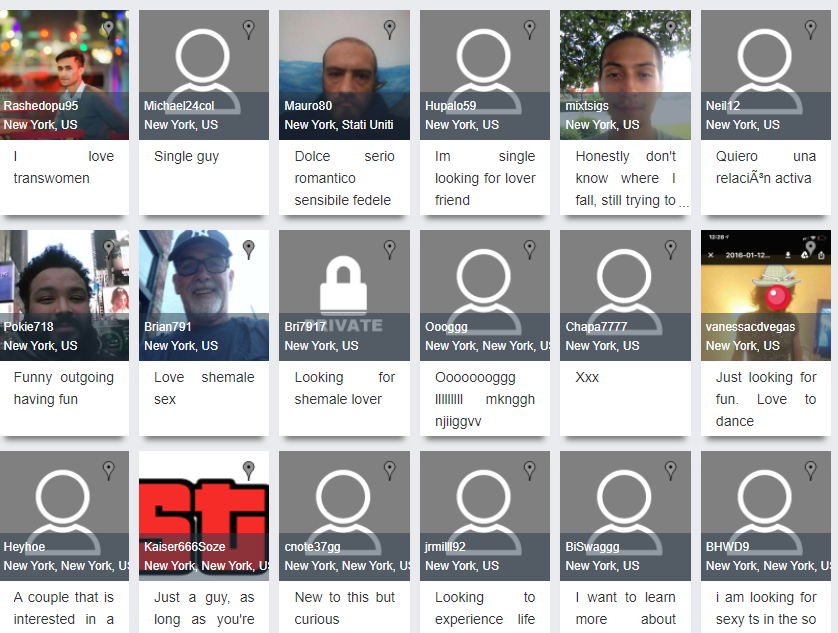 Matchmaking on Chat.TGGuide.com
Chat.TGGuide.com offers both basic and advanced search filters to its members. Users can conduct their online search based on location, age, sexual role, and so much more. All these filters make it easy to find a person looking for something similar.
The main contacting features on the platform are chats and messages. All these communication features are free for trans women members. However, male members must have a premium membership to send and receive messages.
Another exciting feature on this platform is the Favorites list. The function allows you to create your favorite list and add members you find interesting on the site. You can also see who added you to their Favorites list.
Profile Quality
The user profiles on Chat.TGGuide.com are quite shallow. Although some member profiles have enough information to help you discern who the user is and their chatting interests, most profiles are incomplete. Such users leave very little information about themselves as well as their dating intentions.
Loads of profiles on the platform do not have profile pictures. Most of them don't readily display the age of the users, as is common with other competing websites. You'll have to check the profile of the user to obtain such details and consider yourself lucky if you find the specific information.
The About section on the profiles provides details about a user's appearance, lifestyle, and other background information. The new profiles created or photos uploaded on the website are not subject to approval.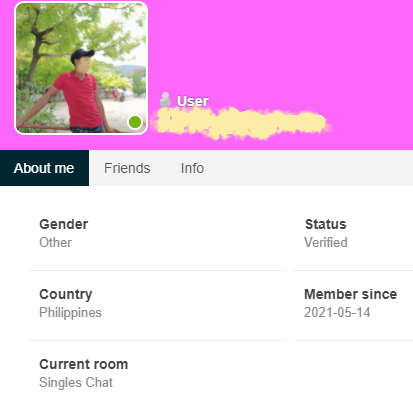 Chat.TGGuide.com App Review
Chat.TGGuide.com doesn't have a dedicated app for Android or iOS devices. You can make use of your mobile's web browser to access the site's features and functions. Almost everything on the mobile browser is similar to the desktop version. 
Design and Usability
The website has a clean and straightforward design. With a minimalistic layout of the site, Chat.TGGuide.com is quite easy to navigate. Most functions and features on the site are simple to use. All the instructions are clear, as rules and regulations usually pop up before you can even join a chat room.
There are only three tabs on the menu top bar – My Profile, Online, and Search. The Online tab displays members currently online. This kind of website organization makes its navigation quite easy.
Special Features
There are not so many unique features on Chat.TGGuide.com that spice up entertainment and communication on the site. Apart from the chat rooms, the only feature you can call special on the site is the Favorite list. You can add members you admire on the site to this list and plan to contact them later. You can also see other users who have added you to their Favorites list. 
The list of distinct chat rooms and their short descriptions makes the site inviting. You can make your stay on the site worthwhile through the following:
Chat Rooms –

 

Several chat rooms are available for free. You can enter any of your choices and chat with other members.

Personal Chat – It is a

vailable for premium membership. This feature allows you to talk to someone privately.
Security and Support
Any profile you open on Chat.TGGuide.com has the Report button that allows you to share a complaint. The moderators will investigate the case and take necessary measures. You can also access the Contact Us section to email or message your question or problem on the site. The agents will respond with a solution within a few hours.
Costs and Prices
Transgender women on the site don't need to incur any cost to enjoy the functions and features on the platform. They only need to complete their profiles and have them verified. However, male members need premium membership to enjoy unlimited communicating on the site.
The charges for premium membership are as follows:
Duration Cost
1 Month $19.90

3 Months $48.70

6 Months $91.40
Chat.TGGuide.com Cancellation
Premium memberships on this platform are not automatically renewed. You can enjoy the paid features until your next billing cycle or cancel anytime.
In case you want to delete your account on Chat.TGGuide.com permanently, access your account settings, then follow the easy steps to delete. There is no way to retrieve your account once you delete it.
Experts Conclusion
Chat.TGGuide.com strives to provide a safe platform for transgenders looking to meet and establish meaningful relationships. However, the website's lack of validation process for new accounts and strict moderation of the online interactions as certain that it's not completely safe. If you fall within either of the two groups favored here, feel free to sign up and try the site's transgender dating services. You'll, however, need to stay cautious of the fake profile and potential scammers.
FAQ
Who is the owner of Chat.TGGuide.com?
We couldn't find information about the ownership of the site. However, the chat rooms are administered by volunteer moderators and administrators.
How legit is Chat.TGGuide.com?
Yes, the site is legitimate. It hosts hundreds of thousands of real account users.
Is Chat.TGGuide.com completely free for women?
All services and features on the platform are free for transsexual women with verified profiles. Male members, however, have to obtain premium membership to enjoy unlimited communication on the website.
How can I block another Chat.TGGuide.com member?
It's easy to block any user and stop them from sending you annoying messages or viewing your profile. Click on the Block button that is visible on the person's profile.