BronyMate Review
BronyMate Sign in/Sign up
Just like most dating sites for nerds & geeks, BronyMate is an entertaining online platform for people who love pony. It enables you to explore the thrills of a pony fan club in your search for lasting relationships. The site boasts a great pony-loving and fun chatting application. The app is about dating and following real pony heroes you admire, sharing catchy fan news, sweet graphics, and animations. It also has a throwback blog interface that just makes it interactive.
The sign-up process is pretty easy and quick. It won't take you hours to complete your profile and have it approved. The homepage of the site shows you a simple web-designed interface that you can quickly feed with the necessary information and gain full access to the site.
All you have to do to complete this stage is enter your username, password, email address, gender, country, city, and state or province. Remember to select what you're looking for on the site – whether a woman, man, or trans.
Complete the signup process by choosing an image file to upload on the photo section. Agree to the T&Cs of the website and consent that you're 18+ then click on the submit button.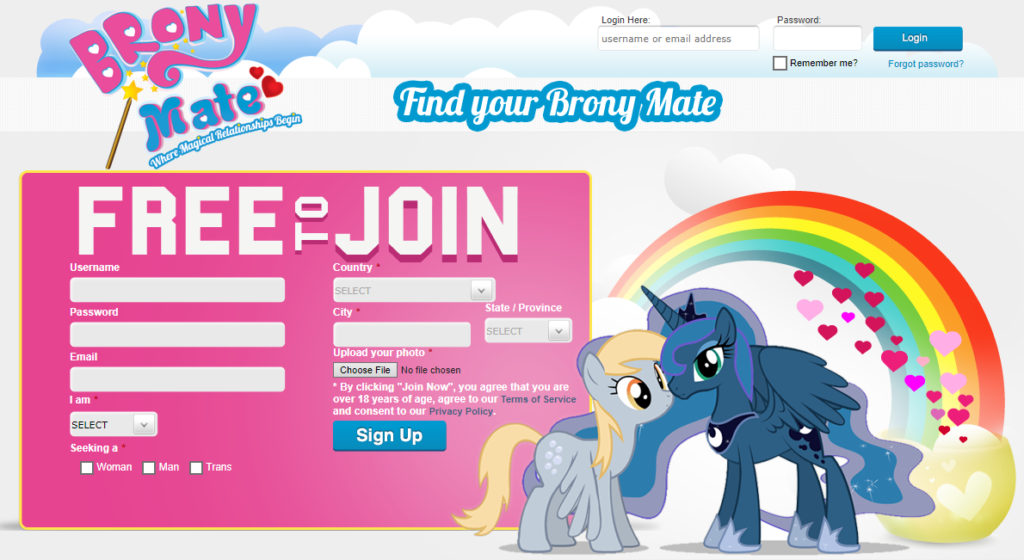 Member Structure
BronyMate.com is an incredibly versatile dating website that caters to the needs and desires of pony lovers worldwide. The site has a strong Asian fan base. Its unique interface also snags thousands of fans from America, Europe, and Africa.
The site encompasses different sexes and is open for males, females, and transgenders. Even anybody that comes in between these three sexes has a chance of finding true love on the platform. BronyMate has a passionate drive to give its users the best possible services independent of their sexual orientations and preferences.
The website is open to people who are 18 years and above. It has a strict policy of ensuring that underage users don't gain access to its interactive wealth. It is amazing as it curbs the millions of little pony fans who are underage from being exposed to adult themes and explicit content.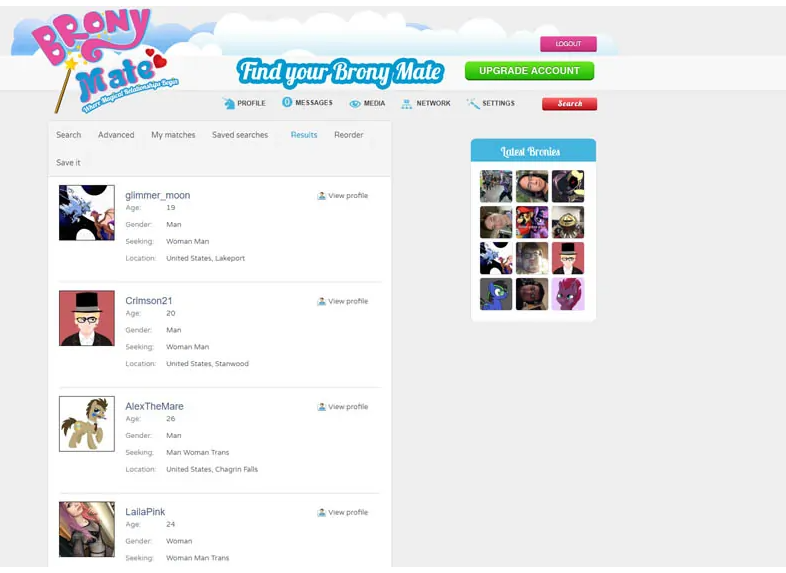 Matchmaking on BronyMate
Once you sign up on the site, it's easy to navigate and enjoy the services it offers. While on your account, move to the right side of your profile and access the search button. You can fill in your specifications and use a great search filter to find a perfect match.
The process allows you to get optimized results and proceed to message your romantic interest on the other side. One setback in using this advanced search filter is that you have to be a paid subscriber to enjoy the feature.
The two main options to connect and make contact with other members on the site are through messaging and direct chats. To utilize these functions, you have to be on a requisite subscription plan. The plan is automatically renewed for the duration of its lifespan.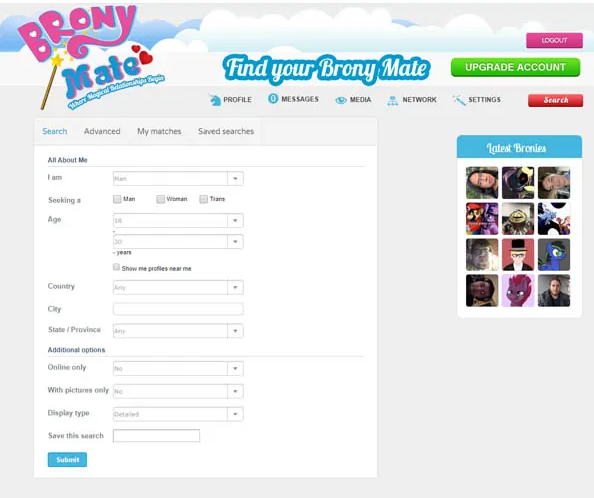 Profile Quality
BronyMate encourages its users to seek long-term relationships or marriage as their dating goals. The site doesn't favor guys looking for sexual encounters but rather pony lovers interested in serious connections. For this reason, it hosts dedicated and committed profiles with detailed information about the members.
The information on every profile is enough to enable you to understand who the user is and what they're seeking on the platform. The site also encourages every member to make the most detailed and appealing profile for ideal matches.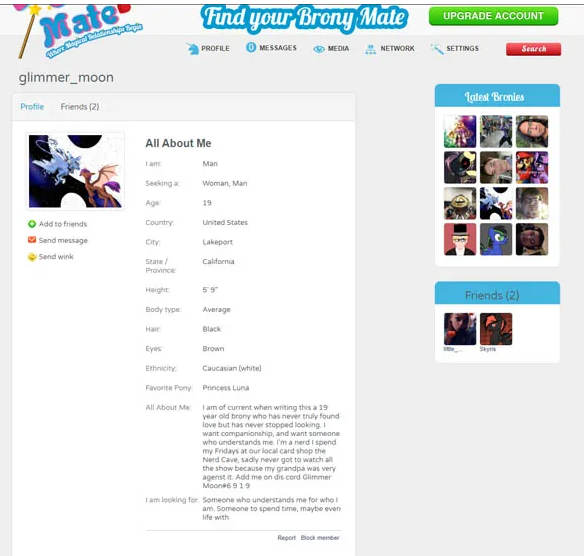 BronyMate App Review
BronyMate.com doesn't have an official app for either Android or iOS devices. However, the website is mobile-friendly. It's quite responsive on any internet-accessing device. The site is easy to navigate with a mobile phone and access the features.
Design and Usability
Most reviews of BronyMate find the website design too weak and rarely rates it above 3. The lack of mobile applications could be a major contributor to this. Our review found out that the website's design fails to attract a large number of users.
Considering usability, the site is very user-friendly and responsive. The optimized interface gives members an excellent and well-organized experience. The throwback blog interface is easy to understand and readily brings little pony lovers into the realms of their usage.
Special Features
There are many free features on the website that make it easy to find and establish friendships and intimate relationships. Apart from the wide range of chat tools available, there are other interactive functions like Winks, Just Saying Hi, Welcome to the Herd, and photos on the avatar of cartoon characters that make the site entertaining.
You can also use other premium features like Brohoof, Facehoof, and TOOT to connect enticingly and share much more with other members. Once you get serious with buddies, steer your connections to long-lasting relationships.
Security and Support
The site is quite safe and secure as it strives to conform to online dating protocols. It has even passed various international safety tests. Even so, it still advises its members to be cautious of private conversations and not to hesitate to report suspicious accounts. Any user is free to contact the site moderators to solve any issues they might have.
Costs and Prices
Users on free membership don't get many features to use while on the site. Standard membership can only utilize the basic search features and chat while replying to the Gold members on the platform. On the other hand, paid membership opens a lot more to explore on the site. The paid packs have multiple gifts with unlimited accessibility.
Paid membership comes in two main packs – Silver packs rates and Gold pack rates.
Silver Pack
| Duration | Cost |
| --- | --- |
| 3-Days Trial | $3.00 |
| 3 Months | $48.00 |
| 6 Months | $84.00 |
| Lifetime | $195.00 |
Gold pack
| Duration | Cost |
| --- | --- |
| 1 Month | $72.00 |
| 3 Months | $72.00 |
| 6 Months | $126.00 |
| Lifetime | $295.00 |
BronyMate Cancellation
Users can indicate their intent to cancel their subscription in the Contact Us section. Access it at the bottom of the website's screen. You'll feed in your details such as username, email address, and subscription plan details. A user is also required to express the reason behind the call for cancellation. In the whole process, beware of BronyMate's non-refundable policy.
Experts Conclusion
It feels great enjoying the company of like-minded little pony fanboys and girls? Apart from the active members and interactive features on the site, we also found the site easy to access and effortlessly maneuver. The only downside surrounding the website is its lack of a mobile app. It is unfortunate due to the overall global demand. There are many features you can explore for free, but the paid membership offers a lot more. Feel free to sign up and try the services of the site.
FAQ
Who is the owner of BronyMate?
BronyMate operates from Canada, Ontario. We couldn't find the full information about its ownership.
How legit is BronyMate?
The site is legit, quite safe, and secure as it conforms to various safety tests. No wonder it boasts millions of users worldwide.
Is BronyMate completely free for women?
BronyMate offers lots of free features to all genders on the site. However, to access and enjoy unlimited functions and services, you need to join the paid membership.
How can I block another BronyMate member?
There are simple steps to follow to block annoying profiles from interacting with you on the site. Open the member's profile and click on the Block button. There is also a Report button available for suspicious profiles.